My daughter loves the fun online learning games and activities in
Reading Eggs
. Reading Eggs is an online program that helps kids read in a fun and interactive way. We were given a six-month subscription to try it out!.
There are multiple levels for Reading Eggs:
Reading Eggs is for kids ages 3-7. It is a self-paced program with golden egg rewards and fun contests along the journey
Reading Eggs Jr. is for kids ages 2-4. It has videos, books, alphabet games and more to the the preschool crowd school-ready.
Reading Eggspress is for kids in grades 1-6. These activities help bolster reading games, books, and online activities.
Mathseeds is a Math program for kids ages 3-9. This program helps to gain confidence in math skills.
Kaelyn and Miles both have been working with Reading Eggs. Kaelyn took a placement test and landed in lesson 60 while I let Miles start at the beginning of Reading Eggs Jr.
The Dashboard in the first thing you see when you log into Reading Eggs. It shows me what Kaelyn has been doing, what her reading age is, how many sight words she has learned, and a bunch more. It is a great way for me to see how she is doing. I use it to keep an eye on their progress and talk to them about what they are doing. I saw at one point something that I am sure Kaelyn's older brother did instead of her. They thought I was a super spy because I was able to see the truth that they thought was hidden from me. Look, kids, I know Kaelyn doesn't know how to spell those words. It wasn't hard to figure out.
Kaelyn gets to choose what she wants to do in the program. I love that it is self-paced and that she can choose what she wants to do. There are books, games, and a progression that she can go down to learn more sounds and sight words.
"I think that it is amazing. I want to do it every day. My favorite thing to do is making stories and playing. I wish that there would be no locks." ~Kaelyn, 7 years old.
Miles uses Reading Eggs Jr. and loves the videos. He has a speech delay and isn't ready for the alphabet yet, but he is enjoying the videos anyway. I like being able to give him time on the computer that I know is a safe space.
What do you think about Reading Eggs; is it a fun program? "Yup."
Do you know any letters? "Yup. OOooooooo!!"
"Reading Eggs... my one Reading Egg!" ~Miles, three-years-old.
Reading Eggs just released homeschool overviews for grades k-2. These overviews give you week by week lesson plans for Language arts, Math, Science, and Social Studies. This makes teaching a little bit easier! You can find them by clicking in the "Bonus Materials" dropdown menu on the dashboard screen.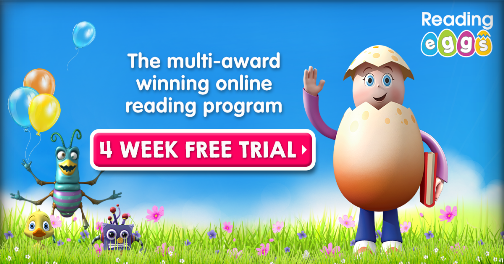 You can get a free four week trial by signing up here:
www.readingeggs.com/crew39
(this special expires on November 30, 2017).
A 6-month subscription is $49.95.
A 1-year subscription is $59. (For $10 you get an extra 6-months!)
You can also purchase book packs when you purchase the subscriptions.
To read more reviews, please click the graphic below.