I love
Memoria Press
because it has solid classical Christian curriculum so I was thrilled to review
First Form Latin
.
First Form Latin is a great beginning step for kids (or adults) in grades 4-9, or following Latina Christiana. Sebastian is a rising fifth grader and I have limited Latin exposure so together we worked through the curriculum and learned together. We had done a *little* Latin when he was younger so we had a basic familiarity with Latin. I don't think that gave us any edge in the program, but the concept wasn't completely foreign to us when we started.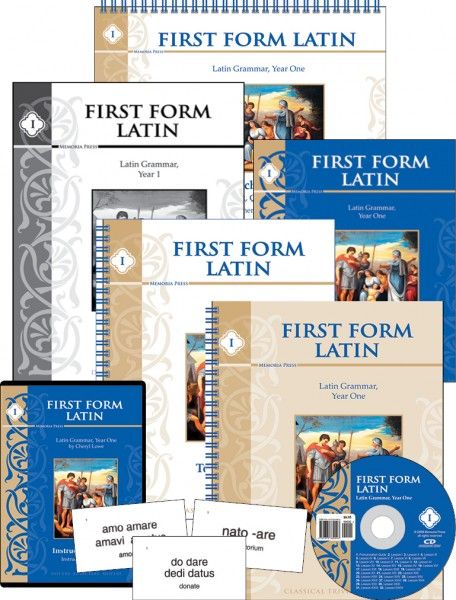 This complete set includes everything you would need to teach Latin. It includes:
The Student Text - 34 two-page lessons along with appendices.
Teacher Manual - All the instructions you need to assist your student in learning Latin, with inset copies of the Student Text pages.
Student Workbook - Exercises associated with every lesson that reinforces grammar and vocabulary.
Quizzes & Tests - A quiz to end each lesson and unit tests.
Teacher Key - With the answers to the Student Workbook pages, lesson quizzes, and unit tests.
DVDs - A three DVD set where the lesson material is covered by an experienced Latin instructor with on-screen information.
Pronunciation CD - For daily listening to help the student with correct pronunciation, and vocabulary & grammar practice.
Flashcards - Vocabulary, saying, and grammar cards for each lesson.
Before we began using the curriculum, I spent about two weeks reading through the material, familiarizing myself with the lesson structure, and learning the lessons before working on them with Sebastian. I did this extra prep because I have a hard time remembering new material as opposed to my sponge-son who picks things up and internalizes them fast.

We worked on Latin three to four times a week. I tried smaller amounts of time more often since Sebastian is on the younger side of the recommended age. I found the teacher manual to be invaluable to keep the lessons organized and help me teach something I didn't have much knowledge in. The pronunciation CD was helpful for me since I was unsure about Latin. I watched the DVD on my own before watching it with Sebastian. He said he preferred it when I would watch the DVD and then teach him without the DVD. He doesn't like videos and prefers one on one instruction with a real in life teacher. This curriculum is easy to adapt to make it work for your home in the way that works best for you.

Although Sebastian isn't a huge fan of Latin, he was able to see connections to our English work by way of derivatives and studying the conjugation. I adapted the quizzes and tests to be mostly oral and when I expected written work from Sebastian, he wrote on the dry erase board. While we were learning the lessons, I didn't expect more than a page or two of the worksheets to be done a day and we often did them together. If he was older he could do more on his own and I would expect more writing from him, but I feel confident he was learning the material well with this changes I put in place.

Overall, I feel this is a solid Latin foundation for someone who is new or only has a little exposure to Latin. I would recommend this for kids and adults alike! It is easy to navigate, teach, and implement. We learned some Latin phrases and for fun have been trying to use them in conversation in the house.
Other members of the Homeschool Review Crew reviewed a variety of products from Memoria Press. Please follow the link in the graphic below to read the reviews on: Prima Latina Complete Set, Latina Christiana Complete Set, First Form Latin Complete Set, Second Form Latin Complete Set, Third Form Latin Complete Set, Fourth Form Latin Complete Set, The Book of Trees, and Nature's Beautiful Order.