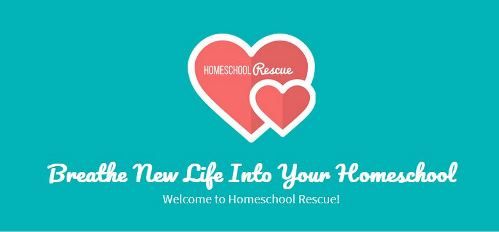 I am excited to share with you a new homeschool parent resource from
Only Passionate Curiosity
called
Homeschool Rescue
. Homeschool burnout is a real problem for all of us, especially toward the end of a long year. Even though I have been homeschooling for about 5 or 6 years, I still feel the struggle and feel overwhelmed many times. It is when we struggle that we need to take a moment to breathe some new life into our homeschool and we need support! Homeschool Rescue is exactly what the doctor ordered.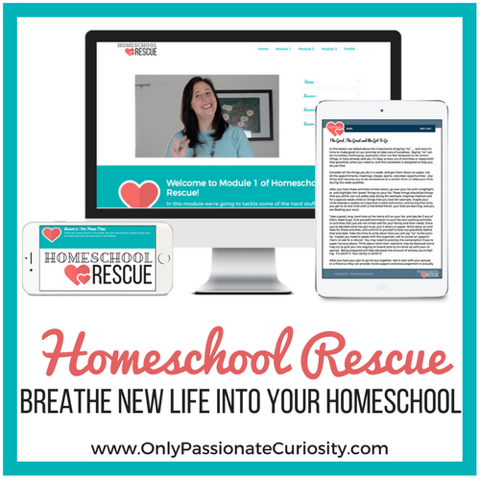 Homeschool Rescue is not only an online course to help you get your life more organized and help take off some of the stress, but it is an online support system where we can talk to others with the same struggles.
There are five modules and each module is broken up into a few different lessons where there is a video as well as homework for each lesson. Module Two deals with time management and organization and I took my time in this module, spending a few weeks working on the assignments. It was incredibly helpful in my life. Module two has five different lessons. Each lesson starts with a video that can either be watched, read as a transcript, or downloaded as audio and listened to as a podcast. I preferred to listen to the podcast and then afterwards I read the transcript. I tend to need two ways of getting information in order to retain it. Since there really is no time table for these lessons, I was able to take my time and really dig in to each module.
The first lesson in module two was about saying no. How is that word so hard to say? It inspired me to think about what I am doing and pair down on our commitments. I was also affirmed that having assignment notebooks with the kids is the right thing to do. I have also been implementing a "buddy" system and pairing up my kids with the toddler and baby so that I can have one on one time teaching and not have to worry about the littles getting in the way,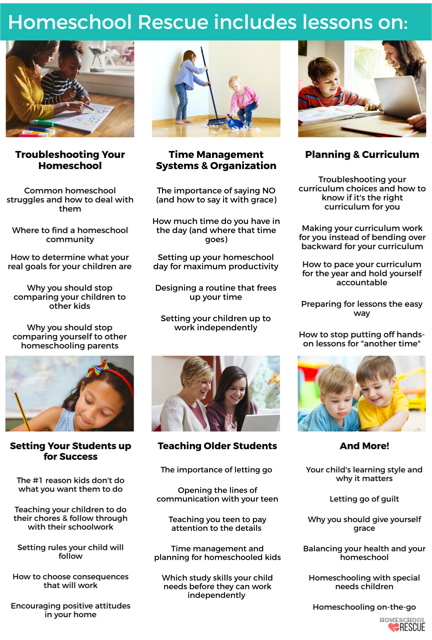 There is an easy to use 60 day calendar to help you work through the modules and I found it helpful to check off as I went.
Using Homeschool Rescue, I was able to organize my homeschool better and I have started to prep next year using some of the tools in the course. Module four was also a much needed section in my life because it dealt with discipline. The biggest thing I took out of this module is getting the kids doing more chores. She talked about show them, teach them, supervise them. I sometimes forget that I need to *teach* them how to do a chore. I expect them to be able to do it without these steps, and that is where frustration seeps in to the day.
I am continuing to get much out of this course, but the biggest thing for me is to hit the reset button. I am working on lowering my anxiety by not over committing and by carefully choosing what we will be doing next you in terms of curriculum and outside commitments. I only have these kids in my care for a short time, and I want them to love and learn, not grow frustration and resentment. This course has helped me to feel like maybe we are doing the right things, but pausing to reset is ALWAYS an okay thing to do.
"Remember this, if ever there's a tomorrow when we're not together, there's something you must always remember: you are braver than you believe, stronger than you seem, and smarter than you think."