The Monthly Plan from
Creating a Masterpiece
provides my family with excellent
art instruction
and we are adding to our homeschool portfolios.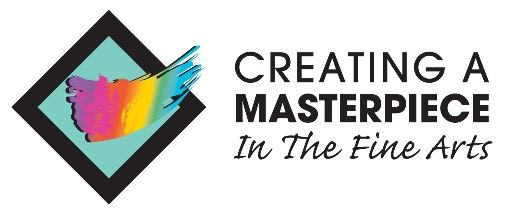 Creating a Masterpiece is an online art curriculum that covers many levels, mediums, and ages. The levels include beginner, levels 1-5, and art in history. The mediums include ink, watercolor, oil pastels, charcoal, alcohol ink, block printing, acrylic, batik, mixed media, wood burning, and more.
The videos are presented by artist Sharon Hofer. She teaches students out of her home studio and is bringing her experience to us through easy to digest segmented videos for each project.
My two older kids and I decided to have a go at the beginner level courses. Our first pick was what looked to be a fairly easy watercolor. It was broke into three segments that were less than twenty minutes each. This is perfect for kids that can't sit still! I broke up the segments between days so that we could space it out.
We liked the pace that was set. We also liked the easy of using the program. Each of our paintings turned out unique and we felt good about the process. The only "downside" is that my kids felt like sometimes what she was saying was going over their heads a little bit. I was getting quite a bit out of the videos and I feel that this website is a great family site. It can work with younger kids, older kids, and adults. Honestly, I think I enjoyed the videos even more than my kids did.
Working on part 1
The only items I needed for this lesson was a water color pallet of paints, water color paper, some brushes and water! I had all this in my arsenal so there was no need to buy anything.
Typically my kids are not big into video learning, but with art I like having a visual to follow. What is nice about Creating a Masterpiece is that it doesn't have to be 100% the same. Sharon suggests being creative, picking your own colors, and doing it in your own way. Anytime my kids can "not be wrong" they go for it.
Our finished flowers
Overall we give it a thumbs up. It works and can be enjoyable to do as a family!
Some of the other projects we would like to do include a winter cabin in oil pastel and an African Sunset in watercolor. All of the projects look fun, but those look like my younger kids will be able to follow along easily with the lesson. I already have everything I need for these lessons because I would be using the same water color paints and paper that I have and I own oil pastels, velour paper, and tracing paper. What is great is that each lesson comes with a PDF of the supplies you need and you can even purchase the supplies by clicking on a link in each lesson. It makes it easy!
Price:
$39.99 per month
Unlimited family access to all projects
Over 144+ Lessons included Additional videos and tips