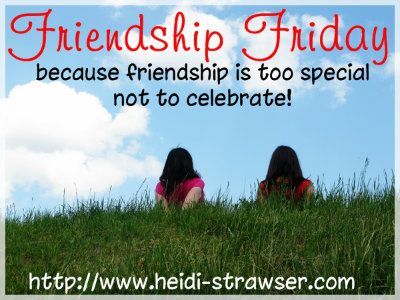 Heidi, from over at
Heidi's Head
, has started a wonderful blog link-up celebrating one of the best joys of life- FRIENDSHIP! I decided to join in this week with inspiration from Leo Buscaglia:
"There are scores of people waiting for someone just like us to come along; people who will appreciate our compassion, our encouragement, who will need our unique talents. Someone who will live a happier life merely because we took the time to share what we had to give."
There are many seasons in a persons life. In each season of your life there should be at least one good friend that can make a difference in your life. In my current season I am opening up and making new friends while hanging on to some good friendships I have had for a number of years.
Just recently my family has been starting to meet up with other families that share our faith. Each week we get together to nourish our bodies and souls. This group of people have become so dear to me. We pray together, worship together, and I can feel the Holy Spirit breathing life into our souls. I have never felt such a powerful presence of the Lord in my life until recently and I have to thank these new friends in my life for helping our family come closer to Him and with each other. Right now, in this season of our lives, this group of friends has been brought to us. We are clearly in need of this companionship and I thank God every day for the friends I have met in this group. They are changing our lives, and I hope that we might be impacting them in a positive way.
Just as we are celebrating new friendships, I also want to call out an old friend from elementary school. She announced her engagement recently and that has me reminiscing of our friendship over the years. It is unfortunate we do not get to see each other or talk as often as we like, but when we do it is like the years haven't passed us by. She gets me. She never thought I was too weird or strange and we were able to be ourselves with each other without worrying about anything. We will always be friends, even if we don't live across the street from each other anymore. I wish her happiness for her upcoming wedding and I will always look upon our friendship as an important part of my life.
Heidi encouraged us to reach out to a friend this week by giving them a call or sending them a card. Sometimes it is easy to take for granted the friendships we have. Let your friends know how much you care about them and how much you value your friendships with them. I want to take it a step further and try to treat each person you meet as if they are your friend. Smile at them. Say hello. If you like their shirt tell them. Say compliments out loud instead of keeping them in your head. Small acts of kindness can change the world, one moment at a time. Besides, you never know who your new best friend could be.