"Our greatest natural resource is the minds of our children."
~Walt Disney
No one can contest Mr. Disney with his statement. If you look to the future, what is a definite? We don't know what the future holds. We don't know if we will run out of oil or if our economy will fall again. We have no clue if we will destroy all the rain forests in the world or if any number of animals will go instinct. We cannot predict whether or not we will be in a number of wars or even if the United States will be around in 100 years.
What we do know is that our children will have to take on these problems. We are handing over this world to them and they will have to come up with solutions. So what is the greatest natural resource? Our kids!! They will be the ones caring for us in our old age and cleaning up the mess we are leaving for them. The key to our future is in their minds. We have to help them unlock it so that their potential and inspiration is our salvation.
This leads me to another quote from Walt Disney.
"Crowded classrooms and half-day sessions are a tragic waste of our greatest national resource - the minds of our children."
I believe that the public school system is failing our children. I can easily say that the public school system I currently live in is a waste. The kids are pushed into over-sized classes. For instance, in kindergarten they have 30+ kids in a class without any aides or support. On top of that it is a half-day kindergarten so I don't see how they can get anything done in that amount of time with that amount of children in a class. The children are then taught to the test because of No Child Left Behind. The schools have to hit Annual Yearly Progress so the PSSA's have become the most important thing in the whole year. Not the kids. Not the education. The test.
This is one reason why I home school. I want my children to be free. I want them to grow up with imaginations and hope, just like Walt Disney. I want my kids to be imagineers. They can think outside the box and dream of a future where they can become whatever and whoever they want. I want my kids to be Disney kids.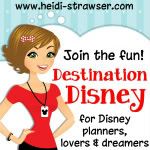 Join me and other bloggers on a journey of Disney related quotes at Heidi's Destination Disney. Each week she will share another quote to write about. Quotes + Disney +Bloggers = Awesome fun!